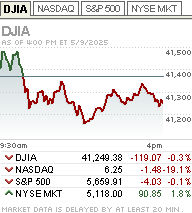 Note: Unless otherwise specified, currency amounts described in this article are in U.S. dollars, and government references are to the U.S. government.
Trump Wins: What Happens Now?
Key Points
Donald Trump's surprise presidential election victory led to a short-lived stock futures downturn, but markets steadied the next day.

Markets may remain unsettled in the near to medium term as investors absorb the implications of potential policy changes.

In times of uncertainty, remember that panic is not a good investment strategy. Don't let short-term volatility prompt you to throw away your long-term investment plan. 
The election analysis provided by the Charles Schwab Corporation does not constitute and should not be interpreted as an endorsement of any candidate or political party.
Donald Trump's unexpected election win on November 8 was initially unsettling for markets: Dow Jones Industrial Average futures dropped more than 800 points in overnight trading as the election result surprised traders and investors who had been relying on pre-election polls. However, stocks steadied the next day and ended substantially higher from the previous day's close.
Stocks weren't the only market to experience a dramatic move—the Mexican peso dropped, gold surged and 10-year Treasury bond yields rose. Expectations for a Federal Reserve rate hike in December sank. And the CBOE Volatility Index briefly surged. The drama harkened back to the UK's vote in June to leave the European Union—the "Brexit"—and the market's reaction to it. But as with Brexit, the recovery was seemingly as swift as the selloff.
Will volatility continue? We expect it will as long as uncertainty remains. How President Trump will govern is a huge wild card. If he carries through on the anti-trade, pro-tariffs rhetoric he expressed during his campaign, we believe it would be detrimental to economic growth. Tax cuts, an infrastructure spending plan and reduced business regulation might offer offsetting boosts, but they would bring the problem with the deficit and debt back into the spotlight and likely pressure the U.S. dollar.
It's unclear how closely Trump's governing policies will track his campaign policies. On the campaign trail, he promised to build a wall on the Mexican border, repeal and replace the Affordable Care Act, cut taxes and increase infrastructure spending—the last an idea with broad bipartisan support. However, he still has to put together a cabinet, hire a staff, figure out his policy priorities and forge a relationship with Congress, including some lawmakers in his own party who opposed his candidacy. Democrats, with a narrow minority in the Senate, can still impede legislation. Meanwhile, the government is facing another budget deadline on December 9, when the current agreement to fund government operations and keep the government open and operating expires; if Congress kicks that can down the road to February, when the new Congress has taken office, a newly sworn-in President Trump will have to deal with that issue.
The bottom line: The U.S. system of government has many checks and balances designed to mitigate the risk of extreme policy changes, so ignore the noise, let the dust settles and abide by your long-term asset allocations. Reacting emotionally is a time-tested poor strategy for managing one's money. During times of uncertainty, it's important to craft a financial plan designed with sound investing principles, and keep your eye on your long-term goals.
Next Steps
Talk to us about your portfolio. Call our investment professionals at 800-355-2162.
Watch Schwab experts discuss other market and economic topics in the Schwab Market Snapshot.        
Important Disclosures
The information provided here is for general informational purposes only and should not be considered an individualized recommendation or personalized investment advice. The investment strategies mentioned here may not be suitable for everyone. Each investor needs to review an investment strategy for his or her own particular situation before making any investment decision.
Please note that this content was created as of the specific date indicated and reflects the author's views as of that date. It will be kept solely for historical purposes, and the author's opinions may change, without notice, in reaction to shifting economic, business, and other conditions. 
Data contained herein from third party providers is obtained from what are considered reliable sources. However, its accuracy, completeness or reliability cannot be guaranteed.
Past performance is no guarantee of future results and the opinions presented cannot be viewed as an indicator of future performance.
The CBOE Volatility Index, a measure of the implied volatility of S&P 500 index options, is calculated by the Chicago Board Options Exchange.
S&P500 Globex futures are traded on the Chicago Mercantile Exchange via the Globex electronic trading platform.
The Schwab Center for Financial Research is a division of Charles Schwab & Co., Inc.