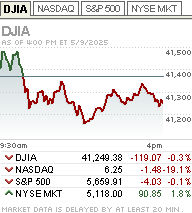 Note: Unless otherwise specified, currency amounts described in this article are in U.S. dollars, and government references are to the U.S. government.
Stocks and Bonds Rally: Can Both Be Right?
Which is right—the stock market or the bond market?
The two major asset classes appear to be pitted against one another in a tug-of-war over where the economy is headed. Many investors can't reconcile the diverging market action with a common view of the economy, and the situation could raise concerns about the fallout from a potentially messy divorce.
Usually, stocks and bonds move in opposite directions. The stock market tends to do well when the economy is strong and growth is expected to accelerate, while bonds tend to perform best when the economy is slowing and investors grow cautious. But lately, both markets have been sending mixed signals.
Take, for example, the markets' reactions to the May employment report, which showed a smaller increase in job growth than anticipated, along with downward revisions to data from the previous two months. Bond market investors viewed the news as negative for the economy, driving bond prices up and sending 10-year Treasury yields (which move inversely to prices) to a new low for the year of 2.14%. However, the stock market largely shrugged off the report, with the Dow Jones Industrial Average gaining 62 points, or 0.3%, for the day.
That's been the story over the past few months as economic data fell short of expectations. The Citigroup Economic Surprise Index (CESI), which measures surprises in economic data relative to expectations, has been declining since March and is currently negative, as reported data have been worse than expected. The last few times the CESI was this low, bond yields declined. Yet the stock market keeps moving higher.
Irreconcilable differences?
Kathy Jones, chief fixed income strategist at the Schwab Center for Financial Research, said this isn't necessarily an irreconcilable difference. To some extent, the drop in the CESI represents a return to reality, she says.
"Expectations had gotten too far ahead of reality and some readjustment isn't too surprising. Also, the seasonal first quarter slowdown has become routine, so markets tend to ignore it," she says. "Moreover, as Schwab Chief Investment Strategist Liz Ann Sonders has pointed out so many times, moderate growth in the 2% to 2.5% range with low inflation has historically been good for stocks."
In Kathy's view, there's another divergence that's potentially more troublesome for bond investors.
"It's not the stock/bond market difference that concerns me very much," Kathy says. "The irreconcilable difference I get concerned about is the one that pits the markets against the Federal Reserve."
Markets vs. the Fed
Kathy says Fed officials have continued to signal plans to raise short-term interest rates two more times this year, and Fed projections still indicate the Fed expects the federal funds rate to rise to 3%. However, the market is pricing in one more rate hike this year and—based on the federal funds futures market—sees the federal funds rate going to only 2% over the longer term.
"That's a big gap," Kathy says.
The divergence between the Fed and the market suggests the Fed is much more sanguine about where our economy is headed in the coming months than the bond market is. So what do the data tell us? For the Fed, the driving force is the unemployment rate (remember, the Fed's dual role is to help support employment and ward off inflation). At 4.3%, it's at a 16-year low. In theory, when unemployment is low, wages tend to rise, eventually spurring inflation. Yet despite the drop, wages are growing at an annual rate of just 2.5%, far below the 4% rate we've seen in previous periods when the unemployment rate was so low, she says.
Nor are there signs of price pressures elsewhere, Kathy says. The Fed's preferred measure of inflation, the personal consumption expenditures index (PCE), recently dropped to 1.5%, partly due to lower oil prices and declining costs of cell phone service. Most economists believe those are one-off temporary factors, Kathy says, meaning the Fed likely will keep tightening.
"Where does that leave the bond market? If the Fed is right and inflation perks up in the second half of the year, then the bond market is mispriced and yields will move higher at the long end of the curve," Kathy says. "If the Fed is overestimating inflation, its rate hikes will cause the yield curve to flatten with each rate hike. The Fed could use its balance sheet to push up longer-term yields, which might cause a spike up in bond yields initially, but set up a tug-of-war with the market. It could be an interesting second half of the year." 
Guidance for investors
Kathy says bond investors might want to consider staying out of this particular "divorce" by concentrating their fixed income portfolios in the short-to-intermediate term—for example, in bonds maturing between three years to five years—rather than in longer-term bonds.
"Although we aren't looking for much of an uptick in inflation, current yields provide very little compensation for the risk," Kathy says. "We prefer to stay out of this particular, messy divorce. That's why we prefer the short-to-intermediate part of the curve where the risk/reward outlook is better."
In a broader sense, investors can benefit from making sure their portfolio is well-diversified across a range of asset classes, including stocks, bonds, cash and other assets, based on their risk tolerance and investing timeline. Notwithstanding the recent tandem rally for stocks and bonds, various asset classes typically perform differently, and historically it has been nearly impossible to predict which one will perform best in a given year. Diversification can help your portfolio weather unpredictable market environments.
Next Steps
Make sure your portfolio is diversified and aligned with your risk tolerance and investment timeframe. Want to talk about your portfolio? Call a Schwab Fixed Income Specialist at 877-566-7982.
Watch Schwab experts discuss other market and economic topics in the Schwab Market Snapshot.
Important Disclosures
The information provided here is for general informational purposes only and should not be considered an individualized recommendation or personalized investment advice. The investment strategies mentioned here may not be suitable for everyone. Each investor needs to review an investment strategy for his or her own particular situation before making any investment decision.
All expressions of opinion are subject to change without notice in reaction to shifting market or economic conditions. Data contained herein from third party providers is obtained from what are considered reliable sources. However, its accuracy, completeness or reliability cannot be guaranteed.
Past performance is no guarantee of future results and the opinions presented cannot be viewed as an indicator of future performance.
Fixed income securities are subject to increased loss of principal during periods of rising interest rates. Fixed-income investments are subject to various other risks including changes in credit quality, market valuations, liquidity, prepayments, early redemption, corporate events, tax ramifications and other factors. Lower-rated securities are subject to greater credit risk, default risk, and liquidity risk.
Diversification strategies do not ensure a profit and do not protect against losses in declining markets. 
Indexes are unmanaged, do not incur management fees, costs and expenses, and cannot be invested in directly.
The Dow Jones Industrial Average includes the stocks of 30 of the largest and most influential companies in United States.
The Citigroup Economic Surprise Index measures the amount that economic activity surprised or disappointed relative to analyst expectations. A positive reading suggests that economic releases have on balance been beating consensus, while a negative reading signals the reverse. The index is calculated daily in a rolling three-month window.
The "core" PCE price index is defined as personal consumption expenditures (PCE) prices excluding food and energy prices. The core PCE price index measures the prices paid by consumers for goods and services without the volatility caused by movements in food and energy prices, to reveal underlying inflation trends.
Investing involves risk including loss of principal.
The Schwab Center for Financial Research is a division of Charles Schwab & Co., Inc.