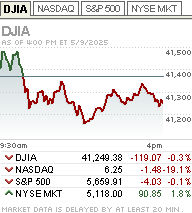 Note: Unless otherwise specified, currency amounts described in this article are in U.S. dollars, and government references are to the U.S. government.
Market Volatility, Trading Halts and Circuit Breakers
As the realization of a Trump win began to set in on election night in the U.S., Dow Jones Industrial Average futures dropped more than 800 points (but later recovered some of those losses). Meanwhile, futures on the S&P 500® Index fell more than 5%, triggering "circuit breakers" on the overnight futures trading (Globex) system.
So what is a circuit breaker, how does it work, and what's it supposed to accomplish?
What is a circuit breaker?
It's a market mechanism designed to reduce panic sell-offs and encourage orderly trading.
How does it work?
In the event of a significant decline in the S&P 500 from the previous day's closing price, during the regular trading session (9:30 a.m.–4:00 p.m. ET) trading halts for 15 minutes or for the rest of the trading day, depending on the severity of the drop and the time at which it occurs.
What are the three levels at which circuit breakers are triggered?
Level 1: 7% decline; trading halts for 15 minutes unless the halt occurs after 3:25 p.m.
Level 2: 13% decline; trading halts for 15 minutes unless the halt occurs after 3:25 p.m.
Level 3: 20% decline; trading halts for the remainder of the day
What happens to my investments if trading halts?
Nothing happens to your positions. They just cannot be bought or sold until trading reopens again.
Next Steps
If you've built a financial plan and a well-diversified portfolio, it's best to ignore the political noise and focus on your long-term goals. Want to talk about your portfolio? Call our investment professionals at 800-355-2162.
Watch Schwab experts discuss other market and economic topics in the Schwab Market Snapshot.
Important Disclosures
The information provided here is for general informational purposes only and should not be considered an individualized recommendation or personalized investment advice. The investment strategies mentioned here may not be suitable for everyone. Each investor needs to review an investment strategy for his or her own particular situation before making any investment decision.
All expressions of opinion are subject to change without notice in reaction to shifting market or economic conditions. Data contained herein from third party providers is obtained from what are considered reliable sources. However, its accuracy, completeness or reliability cannot be guaranteed.
The S&P 500 Index is a market-capitalization-weighted index comprising 500 widely traded stocks chosen for market size, liquidity and industry group representation.
S&P500 Globex futures are traded on the Chicago Mercantile Exchange via the Globex electronic trading platform.
Past performance is no guarantee of future results and the opinions presented cannot be viewed as an indicator of future performance.
The Schwab Center for Financial Research is a division of Charles Schwab & Co., Inc.