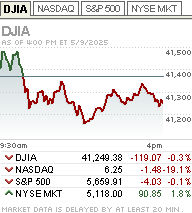 Note: Unless otherwise specified, currency amounts described in this article are in U.S. dollars, and government references are to the U.S. government.
Fed Uncertainty Brings Volatility to Markets
U.S. stocks dropped sharply on September 9, with the S&P 500® index falling 2.5%, its worst single-session loss in more than two months. The drop ended a relatively quiet summer for U.S. stocks, which had touched new highs in mid-August.
Here's what you need to know about Friday's market drop, and the outlook for stocks and bonds ahead:
What caused the market drop?
Conflicting comments from Federal Reserve policymakers created uncertainty about the direction the Fed will take with interest rates. In one camp, Fed Governor Daniel Tarullo said he wanted to see more signs of inflation before deciding that a rise in interest rates is necessary.
In the other camp, Boston Fed Bank President Eric Rosengren suggested there was a reasonable case for hiking the federal funds rate as soon as the next Federal Open Market Committee meeting later this month. That view was shared by San Francisco Fed Bank President John Williams, who recently said he thought it made sense for the Fed to start raising rates "sooner rather than later." A surprise announcement about a Monday speech from Fed Governor Lael Brainard—who has generally supported keeping rates low—added to speculation the Fed may be preparing the markets for a rate hike.
Uncertainty about central bank policy outside the U.S. was another potential cause for Friday's volatility. The European Central Bank opted Thursday for no new easing moves and Japanese bond yields have continued to rise. The two events have sent a message to markets that quantitative easing may have lost some of its efficacy and will not continue indefinitely.
What is the outlook for stocks and bonds?
Markets have been unusually calm this summer, and prolonged periods of low volatility can make markets susceptible to news and rumors. Given the emphasis the market is now placing on Fed policy—and the uncertainty surrounding it—we wouldn't be surprised to see markets continue to experience volatile swings when news or economic data suggest the Fed may, or may not, raise interest rates.
But even if the short-term pullback in stocks persists, we do not believe the longer-term bull market—which has been underway since 2009—is dead. U.S. economic data has generally shown signs of strength, and an improving economy should support the stock market over the long term.
As for bonds, while rising interest rates can translate into falling bond prices—bond yields typically move inversely to bond prices—it's important to remember that yields generally don't move in tandem all along the yield curve. The Fed influences short-term interest rates, but long-term interest rates are generally affected by other factors, such as economic growth and inflation expectations. And even if the Fed does raise short-term interest rates again this year, we anticipate that future rate hikes would be gradual, as inflation remains low and the U.S. economy is only growing moderately. Resist overreacting to swings in the market. Stock market fluctuations are a normal part of investing; panicking and pulling money out of the market may mean missing out on a potential rebound.
That said, periods of market volatility are a good time to review your risk tolerance and make sure your portfolio is aligned with your time horizon and investing goals. A well-diversified portfolio, with a mix of stocks, bonds and cash allocated appropriately based on your goals and risk tolerance, can help you weather periods of market turbulence.
Next Steps
Market volatility is unnerving, but it's a normal—and normally short-lived—part of investing. If you've built a solid financial plan and a well-diversified portfolio, it's best to ignore the noise and focus on your long-term goals. Want to talk about your portfolio? Call our investment professionals at 800-355-2162.   
Important Disclosures
The information provided here is for general informational purposes only and should not be considered an individualized recommendation or personalized investment advice. The investment strategies mentioned here may not be suitable for everyone. Each investor needs to review an investment strategy for his or her own particular situation before making any investment decision.
All expressions of opinion are subject to change without notice in reaction to shifting market or economic conditions. Data contained herein from third-party providers is obtained from what are considered reliable sources. However, its accuracy, completeness or reliability cannot be guaranteed.
Past performance is no guarantee of future results and the opinions presented cannot be viewed as an indicator of future performance.
Diversification strategies do not ensure a profit and do not protect against losses in declining markets.
Fixed income securities are subject to increased loss of principal during periods of rising interest rates. Fixed income investments are subject to various other risks including changes in credit quality, market valuations, liquidity, prepayments, early redemption, corporate events, tax ramifications and other factors.