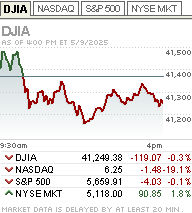 Note: Unless otherwise specified, currency amounts described in this article are in U.S. dollars, and government references are to the U.S. government.
Central Banks to the Rescue?
Key Points
In recent years, actions by central banks have lifted stocks temporarily, but seemed to do little to boost economic activity.

The key for sustaining a turnaround in the stock market is a recovery in growth and avoiding a global recession in 2016.

Rather than rescuing investors, comments from central bankers are more likely to create volatility, both up and down, in the markets until the global economic path is clearer.
The markets turned around last week on the prospect of more central bank action. The MSCI World Index of global stocks posted its biggest two-day gain since October 2011 on increased investor confidence that the European Central Bank (ECB) will act to support markets. On Thursday January 21, comments from ECB President Mario Draghi signaled such a move could come as early as March. His comments seemed to turn around more than just stocks; the price of crude oil futures jumped 20%—their biggest gain since 2008. The Bank of Japan and People Bank of China are also expected to add to their stimulus programs in 2016. As oil prices push inflation lower, central banks are considering more stimulus.
Another central bank rescue?
The three "QE" programs in the United States lifted stocks temporarily, but seemed to do little to boost economic activity. This left stock market performance to slide and reconnect with the trend in the economy (reflected by the global composite purchasing managers index) each time the QE bond buying program came to an end, as can be seen in the chart below.
QE Temporary Boosts
Source: Charles Schwab, Bloomberg, Data as of 1/23/2016.
A boost in the size of the ongoing QE programs in Europe and Japan may offer a temporary lift for stocks, but economic growth is the only longer-term source of gains. Fortunately, we see signs of improving health in the global economy.
Avoiding a global recession
Prolonged global bear markets have always been coupled with global recessions. We don't see a high probability of a global recession in 2016. Last week, the International Monetary Fund updated their global economic forecasts. While they predict that China's economy will continue to slow, their outlook for the world's largest economy—Europe—was revised higher. That is significant since measured by GDP the European Union is twice as big as China. In addition, as you can see in the chart below, India is now the world's fastest growing economy. The IMF expects India's pace of growth to accelerate in 2016. These are some of the reasons why the IMF expects faster global growth in 2016 than last year, tying the recent drop in the stock market to a growth scare rather than an oncoming global recession.
IMF 2016 GDP growth forecast and share of global GDP by country
*Countries presented sum to 88.4% of world GDP, those that each make up less than 0.7% of world GDP are not displayed.
Source: Charles Schwab, International Monetary Fund, Data as of 1/23/2016.
A sustained rebound
Signs that the global economy will avoid a recession in 2016 are important to sustaining any stock market rebound and limiting future drops to temporary corrections rather than a prolonged bear market. In the coming weeks, these signs may be found in:
Earnings reports – Market participants will be listening to the balance of companies' comments on their sales to China and the impact of lower oil prices on their business. Last quarter, a number of industrial companies noted weak sales to China while consumer companies saw strong sales growth.
Economic data – Markets will be watching the manufacturing purchasing managers indexes for many countries released on February 1. Manufacturing, often seen as a leading economic indicator, has been a soft spot in the global economy over the past year and a half.
Business lending – Central bank reports on bank lending to businesses will be on investors' radar screens to see if the sell-off in the corporate bond market is more broadly impacting companies' ability to borrow. Released last week, the ECB business lending survey for the fourth quarter revealed that Europe's banks have continued to ease lending standards, as you can see in the chart below.
Eurozone banks continue to make it easier for businesses to borrow
Source: Charles Schwab, Bloomberg data as of 1/23/2016.
Rather than rescuing investors, comments from central bankers are more likely to create volatility, both up and down, in the markets until the global economic path is clearer.
Important Disclosures
The information provided here is for general informational purposes only and should not be considered an individualized recommendation or personalized investment advice. The investment strategies mentioned here may not be suitable for everyone. Each investor needs to review an investment strategy for his or her own particular situation before making any investment decision.
All expressions of opinion are subject to change without notice in reaction to shifting market or economic conditions. Data contained herein from third party providers is obtained from what are considered reliable sources. However, its accuracy, completeness or reliability cannot be guaranteed.
Past performance is no guarantee of future results and the opinions presented cannot be viewed as an indicator of future performance.
International investments involve additional risks, which include differences in financial accounting standards, currency fluctuations, geopolitical risk, foreign taxes and regulations, and the potential for illiquid markets. Investing in emerging markets may accentuate these risks.
The MSCI World Index captures large and mid-cap representation across 23 developed markets countries. With 1,653 constituents, the index covers approximately 85% of the free float-adjusted market capitalization in each country.
The Composite Global Purchasing Managers Index is compiled by Markit based on the results of surveys covering over 16,000 purchasing executives in over 30 countries. Together these countries account for an estimated 86% of global gross domestic product (GDP).