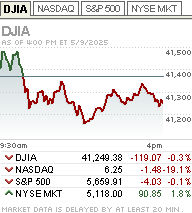 Note: Unless otherwise specified, currency amounts described in this article are in U.S. dollars, and government references are to the U.S. government.
After the Brexit Vote: What Lies Ahead for Markets?
Markets reeled in the aftermath of the British vote on June 23 to leave the European Union, a development commonly known as the "Brexit." As of Sunday night, investors were braced for further volatility after the initial shock of the unexpected result prompted a sharp decline in stock markets around the world. We believe it may take some time for the shock to fully work through the economic, financial and political systems in the U.K. and Europe. With no visible catalyst to halt the slide, the decline in global stocks may continue as the risk of a recession increases.
Since the end of the financial-crisis induced global recession in 2009, a series of shocks have helped to keep growth, inflation and stock market performance subdued. The shocks that have taken place in Japan, the United States and Europe may offer us some insight into the potential duration of the market impact of Brexit.
After the shock of a devastating earthquake and related nuclear accident in Japan on March 11, 2011, the Nikkei fell 16% during the next two trading days, but fully recovered those losses by July 8, 2011, a period of four months. It is worth noting that the lingering recession caused this initial rebound to fade into two back-to-back double-digit declines and rebounds until stocks finally recovered their losses by the end of 2012.
After the congressional standoff over raising the U.S. debt ceiling saw the S&P 500® index slide 3% on August 1, 2011, members of the House of Representatives cut a deal to end it on Aug. 2, prompting U.S. stocks to a one-day rebound on Aug. 3. But they fell another 12% over the next two months on fears of economic fallout, finally bottoming on Oct. 3, 2011. The S&P 500 recouped these losses by the end of October, a period of three months.
The European debt crisis forced Spain to unveil an austere budget and prompted labor strikes in "too big to bail" Spain on March 27-29, 2012, causing a shock that drove the STOXX® Europe 600 Index down 3%. It went on to fall a total of 11% by June 4, as the eurozone slid into a recession. By the end of July, stocks had recovered their losses, a period of three months. 
Although the Brexit is not a perfect parallel with any of the above shocks, the delayed recognition of widening impacts from shock events could prompt a further slide in the stock markets after the initial reaction, as we have seen in the past.
It is important for long-term investors to note that in each of these instances stocks rebounded to their pre-shock level in three or four months, even when a recession took place.
In terms of what's next, nothing happens right away—which is both good and bad. Following the decision to exit, the U.K. needs to negotiate the terms of its withdrawal and a new relationship with the EU countries … or default to World Trade Organization rules, which would significantly raise trade barriers. There is no sudden cutoff to deal with, but also no clarity on what the eventual result of the negotiations may be. That means that rather than a sudden but known impact, it leaves lingering uncertainty that can erode confidence and act as a drag on consumer spending and business investment, slowing the global economy.
As we look ahead, some of the widening impacts of Brexit may include:
Other countries calling for their own referendums on European Union (EU) membership. This could put the European Central Bank in a difficult position to continue its quantitative-easing program of buying the bonds of countries that may choose to leave the eurozone. French far-right leader Marine Le Pen hailed the Brexit vote and immediately called for a similar referendum in France. A "Frexit" could be even bigger than Brexit in its impact on markets, with a European Central Bank that may be unable to effectively intervene.
Conservative politicians are already battling to succeed U.K. Prime Minister David Cameron, who has said he will step down by October. Each candidate is likely to argue that he or she will be most aggressive in negotiations with the EU. In response, the EU leaders in Brussels may seek to be tough on the U.K., as an example to other EU members. As the rhetoric heats up, the markets may become increasingly pessimistic regarding a trade deal that could be mutually damaging. Negotiations could drag out for years.
A rise in the value of the U.S. dollar, as investors seek safe havens, would likely contribute to declines in commodity prices. This may renew cuts to earnings estimates and prompt an eventual devaluation of the Chinese yuan versus the U.S. dollar. These factors, combined with slower export growth to Europe—China's biggest customer—could renew concerns about an economic hard landing for China. In addition, a rise in the dollar could add pressure on emerging-market stocks due to concerns about their dollar-denominated debts and tighter financial conditions.
Europe could fall back into recession as fear of a breakup begins to affect capital investment, hiring and consumption.
Signs to watch for that may indicate the impact of the Brexit shock is beginning to lift
Economic: If the Bank of England and the ECB manage to stabilize financial conditions, and the U.K. and eurozone economies can capitalize on the weakness in their currencies to ease the slowdown/recession, the economic data may be nearing an inflection point.
Political: Events to watch for include potential referendum announcements in other countries. Over the weekend, Spain's conservative People's Party won the most seats in the Spanish parliamentary election, but was short of a majority, a result that failed to break a months-long political deadlock. Meanwhile, Italy is facing a constitutional reform referendum by October, and France and Germany are holding elections in 2017.
Currency: Stability may be near when we see an end to the flight-to-quality buying of the U.S. dollar and Japanese yen. Of late, the yen has been the best-performing currency at times of heightened uncertainty. The lack of action from the Bank of Japan at its June policy meeting is allowing appreciation pressure to continue to build up. While the yen's move higher is negative for Japanese stocks, which have moved in lockstep with the yen for five years now, an end to the rise in the yen may signal the worst is over.
What should investors do?
Short-term-focused traders should be prepared for further stock market declines over the next three to six months, similar to past shocks. We continue to believe volatility will remain a major characteristic of markets in 2016. However, investors with longer time horizons may want to maintain their diversified asset allocations, which can help portfolios weather volatility over time.
Next Steps
Talk to us about your portfolio. Call our investment professionals at 800-355-2162.
Watch Schwab experts discuss other market and economic topics in the Schwab Market Snapshot.
Important Disclosures:
The information provided here is for general informational purposes only and should not be considered an individualized recommendation or personalized investment advice. The investment strategies mentioned here may not be suitable for everyone. Each investor needs to review an investment strategy for his or her own particular situation before making any investment decision.
All expressions of opinion are subject to change without notice in reaction to shifting market or economic conditions. Data contained herein from third party providers is obtained from what are considered reliable sources. However, its accuracy, completeness or reliability cannot be guaranteed.
Past performance is no guarantee of future results and the opinions presented cannot be viewed as an indicator of future performance.
International investments are subject to additional risks such as currency fluctuations, political instability and the potential for illiquid markets.
Diversification strategies do not ensure a profit and do not protect against losses in declining markets.
The Europe STOXX 600 Index tracks 600 small-, mid- and large-capitalization publicly traded companies across 18 European countries: Austria, Belgium, Czech Republic, Denmark, Finland, France, Germany, Greece, Ireland, Italy, Luxembourg, the Netherlands, Norway, Portugal, Spain, Sweden, Switzerland and the United Kingdom.